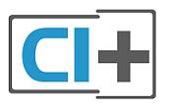 About CI Plus
CI Plus is an extension to the classic EN 50 221 standard. It adds an extra layer of security to the communication between the Host (STB, IDTV or Headend) and the CI Module, secures the content on the transport stream interface and enforces copy protection regulation compliance. CI Plus compatible hosts are also compatible to standard DVB-CI modules.
The CI Plus specification is available at http://www.ci-plus.com .


Our Solution
The GkWare CI Plus software is a simple add-on to our popular CI Stack. Customers that wish to perform an upgrade from an existing CI integration just have to include the new source code and very few new APIs in their projects. The PCMCIA driver interface is identical.
No surprises: Our stack is the basis for CI+ in most STBs deployed in recent years.
Ready for CI+ 1.4
Specification version 1.4 has been released in September 2013 and is the basis for certification since September 2017. Development is complete. Hardware supporting the optional new multi-stream transport stream format is still rare but the software is complete and ready for certification.
Test Material
As part of our own developments, we also created a lot of test material which can be licensed/purchased separately from our software stack. Material available for purchasing includes:
Transport stream (de-)scrambling software for Windows (implementing the AES & DES TS scrambling algorithms)
Reference Streams scrambled with fixed AES and/or DES keys
CI Modules implementing parts of the CI Plus Specification, based on our BISS CI Module
We are also operating a custom X.509 infrastructure that allows companies without a valid license from the CI Plus Trust Authority to start their development. Certificates and the documentation for this replacement "Licensee specification" are available on request.
Pricing
The price for our market leading CI+ software stack (PCMCIA CIS parser, CI and CI+ source code) is currently 25.000€ (plus taxes). Please note that other fees need to be paid for building official CI+ products (see FAQ point "costs"). If you find comparable offer anywhere else, talk to us!