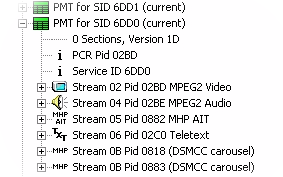 The analyzer combines the most important MPEG analyzer features into one single product:
Decode all MPEG and DVB service information down to the descriptor level. Current/Next table versions are listed separately. SI information for "other" transport streams is decoded as well. The full range of descriptors defined in MPEG2 and DVB are supported !
Record the entire stream or only selected elementary streams to the harddisk.
Wide range of input device options:

Standard DVB-S, DVB-C, DVB-T receiver cards and dongles
Professional DVB-ASI & DVB-SPI Receiver hardware
SAT>IP server support
.TS/.TRP/.MPG Files

Monitor and export DSM-CC object and data carousels, as they are used by MHEG-5, HBBTV, MHP and a wide range of other interactive services.
IPTV Relay. Incoming streams can be relayed as DVB-IP compatible IPTV stream for further processing.
Monitor the bitrate of individual PIDs and or services
Monitor the overall stream bitrate and the stuffing (wasted bandwidth) bitrate for the stream
Identify AC3/Dolby Digital, DTS and MPEG4 AAC/AVC streams
Hunt for unreferenced/hidden streams in the PID Grid
Conditional Access ECM/EMM Monitoring feature
(Dreamcrypt support is available to the general public. If you are a CA system licensee, ask if an approved monitoring build for your system is available)
MPEG2 standard definition and high definition A/V playback (MPEG2 DirectShow codec required)
Specification Compliance:
ISO/IEC 13818-1 (MPEG2 - Systems)
ISO/IEC 13818-6 (MPEG2 - DSM-CC)
EN 300 468 V1.7.1 (DVB - Core specification 05/2006)
TR 101 211 V1.7.1 (Guidelines on Implementation and usage of Service Information)
TR 101 290 (Measurement guidelines for DVB Systems)
EN 301 192 (Specification for data broadcasting)
TR 102 033, TS 102 034, TS 102 814 (DVB-IP, IPTV)
ES 201 812 V1.1.1 (Multimedia Home Platform 1.0.3)
ISO/IEC 13522-5 (MHEG-5)
MHEG-5 UK Profile 1.06
More Information:
Please download our trial version and see for yourself.